Located in the province of Malaga, between Manilva and Marbella, Estepona is one of the most visited tourist destinations on the Costa del Sol. The coastal town retains all its traditional charm that can be explored in its beautiful historic centre and also has residential areas with the best villas in Estepona. Its good cultural offer, its services and above all its kilometres of beaches with calm waters, make it very attractive for sun and beach tourists.
Therefore, from the team of editors of our real estate agency in Marbella, we wanted to make this article with a TOP 10 with the best beaches in Estepona and surroundings.
10. El Velerín Beach
Thanks to its calm waters and the small number of tourists, even in summer, this beach deserves to be included in our top 10 best beaches in Estepona. It is composed of greyish sand and does not have many stones, so it is ideal for a swim without the need to wear booties. It has services nearby and also a large car park close to the beach.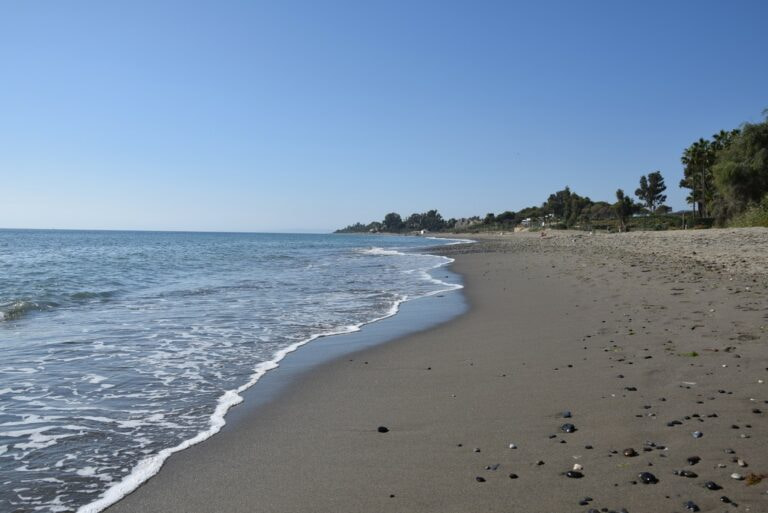 9. Playa del Castor
This 880-metre long beach stretches from the Castor river to the Arroyo de las Cañas. It is semi-urban, has dark sand and some areas of boulders. Its waters are usually clear and it stands out for its landscape between the rivers, the mountains and a lot of vegetation in the area.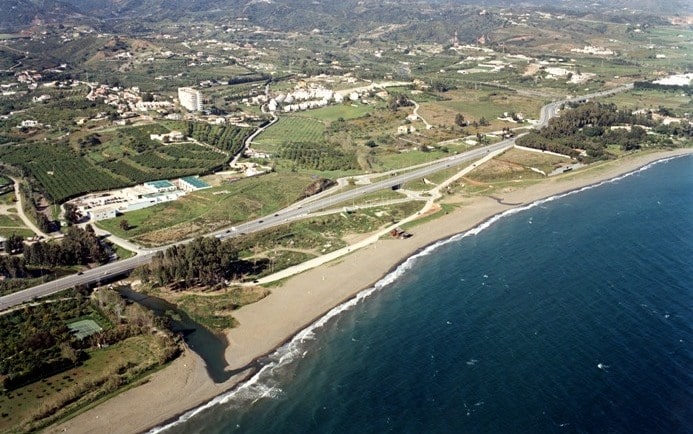 8. Guadalobón Beach
With soft dark sand and blue waters, Guadalobón beach is characterised by its low occupancy throughout the year. It has excellent views of the town of Estepona. The waves are usually moderate, although rarely strong.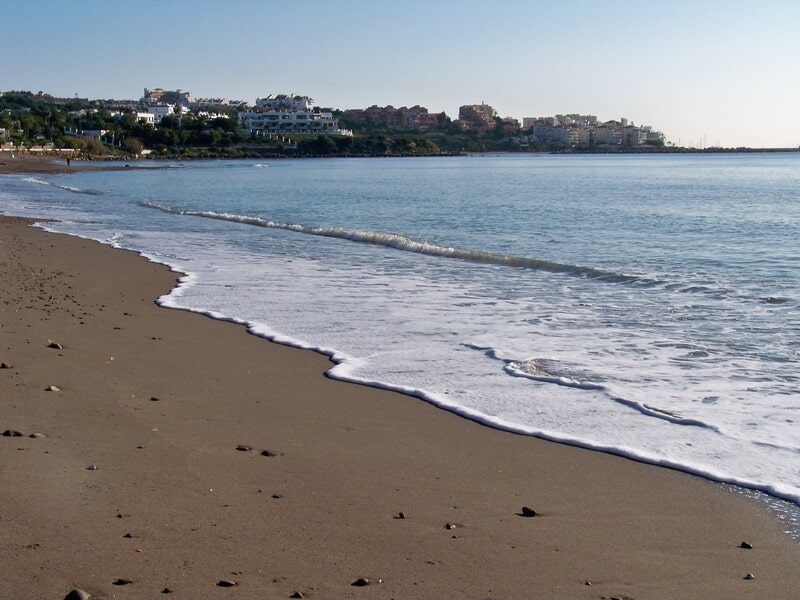 7. Casasola Beach – Atalaya
Located almost in the municipality of Marbella, this beach has a quiet atmosphere where there is a wide range of water activities on offer, such as the company Happy Divers Marbella, which offers introductory diving courses in this area. To get there, you have to enter a residential urbanisation and leave your car a bit further away. But it will be worth it to see the spectacular sunset.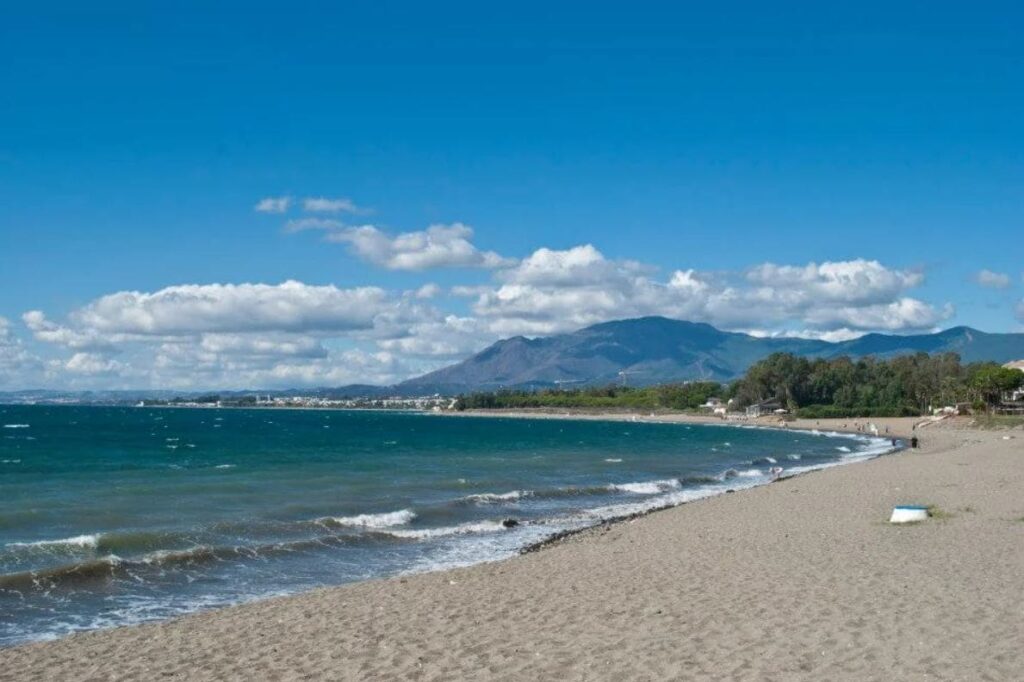 6. Padrón Beach
This is a very popular beach in Estepona. It is situated next to the luxurious Kempinski Resort Hotel, east of the Padron River. It is composed of pebbles and dark sand. It has many amenities nearby such as 2 beach bars, ample parking and the newly renovated Laguna Village, a Balinese style shopping centre which reopened in 2023.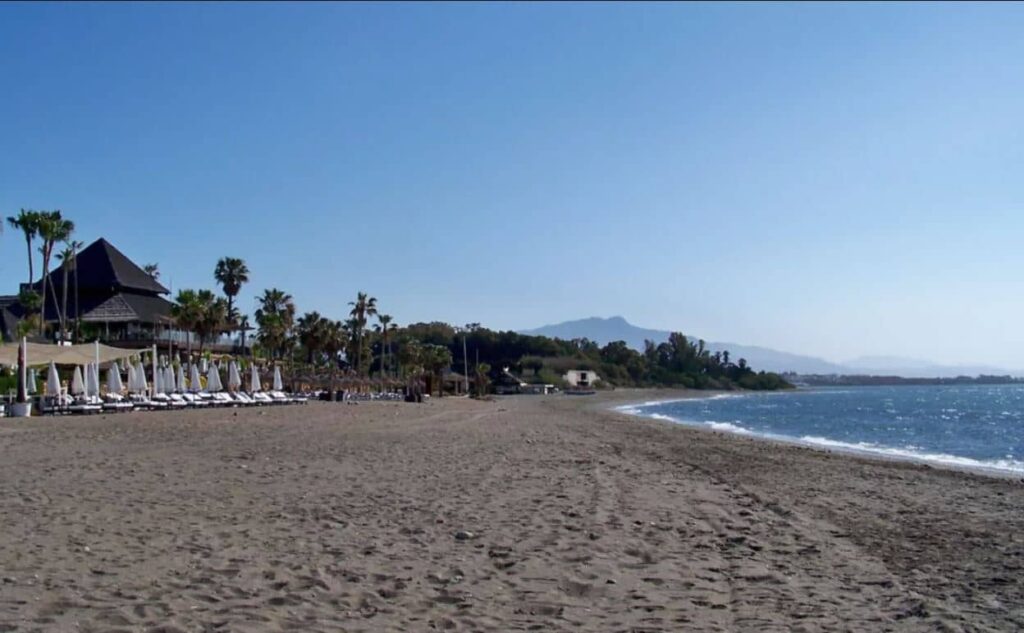 5. El Saladillo Beach
Sandy beach with some pebble areas. It is the longest beach in Estepona, it is more than 3 km long. It is relatively wide and, being in an urbanisation, it does not have many visitors like the Cristo or La Rada beaches, so if you are looking for an area that is not too crowded and with the best services, this is the beach for you.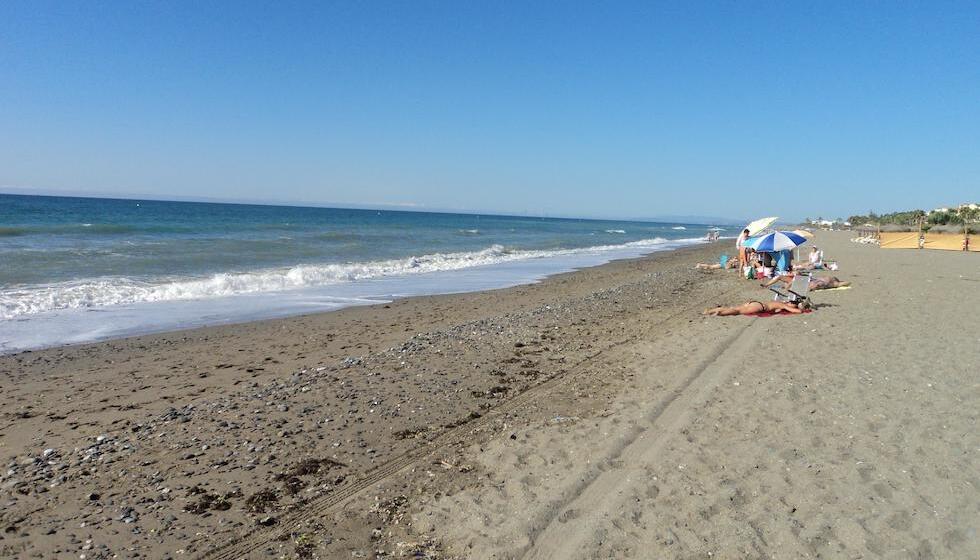 4. Bahía Dorada Beach
On this beach you can enjoy a captivating sunset. It is 700 metres long and about 10 metres wide with dark sand. Located in the residential area of Bahia Dorada, its waters have a pebble bottom, so we recommend that you wear booties and diving goggles. A few years ago a promenade was built where you can go for a walk.
3. Galera Beach
Galera beach is approximately 2 km long and 40 metres wide. Of all the beaches in Estepona, this is the best for snorkelling and scuba diving, as well as other water activities such as windsurfing, kayaking and paddle surfing. It has different services such as sun loungers for rent, litter bins or showers, and a beach bar at its western end. Best of all, the beautiful views of the Rock of Gibraltar.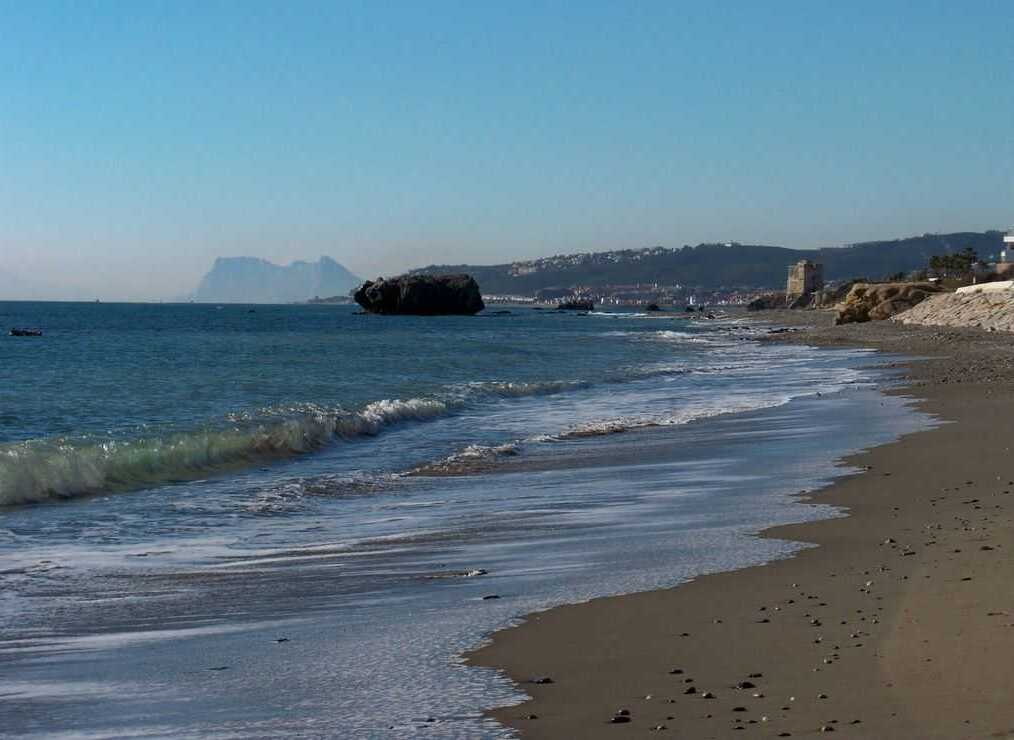 2. La Rada Beach
La Rada is definitely one of the best beaches in Estepona. Its more than 2 km long are crowned by the lively promenade of the town, which also allows you to take a relaxing stroll along the Mediterranean Sea after a day of sunbathing. It stands out for its fine sand, its large number of services: beach bars, showers, toilets… and because it does not cover, so children can bathe without fear of being swept away by the current.
1. Playa del Cristo
Its location is perfect as it is in the town of Estepona itself. It is small, with a length of about 700 metres and very calm waters, which makes it ideal for families. The sand is golden and has no stones. It has many services such as beach bars and restaurants, sun loungers and umbrellas for rent on the sand and a large car park very close to the beach.